Top 5 Car Slots With Free Spins
The online casino industry across the world continues to expand with every passing year. For online casino operators, online slots continue to bring in the highest revenue when compared to other online casino games. There are literally thousands of online slot games available in the market and they cover a wide variety of themes, sports and characters.
One of the online slot themes that is popular across the world is online car slots. The main demographic of these online slots are young to middle-aged males from ages 21 to 40 who are in love with cars. Quite a lot of them love racing as well, whether it's F1 or NASCAR racing. They have a need for speed that can only be quenched by driving fast cards, watching the races or playing online car themed slots.
Online slot game manufacturers have realized that there is a demand in the market for these unique car slot games and have started developing car slots that incorporate both skill and excitement to give players an experience that is very similar to driving a race car or a high end luxury car. Car slots capture that feeling of racing excitement in more ways than one, even if it's just about aesthetics.
A number of online casinos provide free spin bonuses specifically or these car slot games. So if you are a player who is looking for the best racing-themed slots games, then you will do well to check out car slots that have the best free spins promotions. We list out the top 5 car slots games with free bonus spins.
Green Light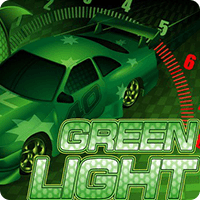 Developed by Realtime Gaming, Green Light Slot is a 5-reel, 20 payline slots game that's themed around car racing. Player reviews show that they are pleased with the graphics and performance of the game. This racing-themed slots game separates itself from the rest by offering colorful yet simple symbols depicting playing card numbers (9, 10, Jack, Queen, King, and Ace). There are also lights in the colors of champagne, red, green and white and showcases racing drivers across a checkered flag that serves as its background.
If you acquire three or more Green Light scatter symbols in the five reels at any place, this activates the Green Light Bonus game wherein you choose 1 of 5 racing cars. From there, the cars will then race. Depending on the result of the race, you can win up to 25 free spins.
One of the main appeals of Green Light is that it incorporates a generous free spin promo incentive. Players can also participate on the game's Realtime Gaming Progressive Jackpot, which they can end up wining after every spin.
Racing For Pink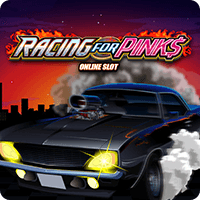 Microgaming, one of the top casino game developers developed this popular car slot called 'Racing for Pinks'. This 5-reel slots game is unique because it provides you with 243 ways to win. The name of the game refers to a saying that comes from street racing known as "racing for pink slips".
What this means is that the winner of the game can get to keep the car of the opponent. In short, Racing for Pinks allows you to keep everything you win. The game symbols depict car engines, cash, Bonus Race logo, the Racing for Pinks Wild logo and the Free Spins girl logo.
The Free Spins girl logo is also known as the Scatter Girl icon. Every time you hit the icon on reels 1 and 5, you'll get a number of free spins whose exact figure depends on the random number of spins and multiplier values. You can get a maximum of 30 free spins.
Turbo GT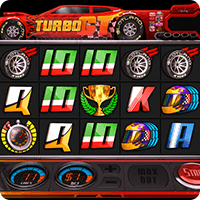 The biggest appeal of Slotland's Turbo GT is that it is a simple game to play. This 5-reel, 11 payline racing car slot game has symbols consisting of a Turbo scatter, card symbols (10, Jack, Queen, King, and Ace), trophy, wheel, speedometer, and racing driver helmets.
Turbo GT keeps things straightforward by having a free spins feature with 10 free spins. This is triggered whenever you hit three Turbo scatters anywhere on the 5 reels. Afterwards, if you land another Turbo scatter as you use your free spins, you'll get an extra spin.
Even though it seems like Turbo GT Slot has fewer free spins compared to Green Light Slot and Racing for Pinks Slot, players can still potentially receive more free spins from Turbo GT's free spins system.
Midnight Race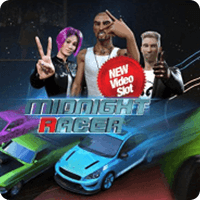 Midnight Race by Saucify separates itself from the rest of the racing-themed slot games by being more focused on its themes. This fast-paced 30-payline car slot game has a story to it along with Free Spins, Scatter, Wild and multipliers.
The game involves three different racing characters named Hector, Kumiko and Hans who are into illegal streetcar racing. This story line gels well with the fast-paced car slot game which has a number of interesting symbols such as car alloy wheels, speedometer logo, driving gloves and smart animations.
The free spins scatter symbol is the race girl holding the checkered flag. Hit 3 of her for 8 free spins. Hit 4 for 12 free spins. Hit 5 for 20 free spins. You can also retrigger free spins and wins during free spins are tripled to boot.
Drive: Multiplier Mayhem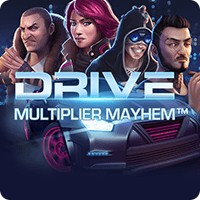 NetEnt's Drive: Multiplier Mayhem car slot game lives up to its name by making multipliers its main selling point across the deluge of car-themed and racing-themed slots out there. This slot game has been very well-designed and has positive reviews with its players. It's probably the most amazing game on this list, rivaled only by the likes of Midnight Racer Slot.
The 5-reel, 15 payline car slot is filled with free spins and Multiplier Wilds. The game's sleek graphics are perfect for this car slot theme that promotes speed and adrenalin. Its gameplay is similarly exhilarating, with its betline multiplier able to go up to a massive 120x bet.
The game's Multiplier Wilds that can appear in any of the reels and gives the same multiplier as the reel they've landed on. The winning betline is then multiplied by the multiplier value from 1x to 5x. The free spins can scatter symbols on reels 2-4, giving you 10 free spins. Players are awarded more free spins every time the Nitro symbols appear on the same reels.
So if you are car themed online slot lover, then try out any of these 5 car slot games and make full use of the free spins attached to these popular online slots.