Top Five Comic Book Themed Slots
With their high-octane action sequences, distinctive characters, and often featuring supernatural villains, comic books make a great theme for a slot machine. This is no secret to the planet's premier slot designers either. Since many characters have had a twenty-first century revamp thanks to blockbuster film directors, it's hardly surprising that many of the online casino industry's leading names have tried their hand at creating a DC, or Marvel themed machine.
With so many offerings available, when it comes to choosing a virtual machine about a comic book hero, it can be a bit hit and miss. In a field as hotly contested, landing on a fantastic title at random is unlikely. That's why we did the legwork for you, and compiled this list of our favourites.
Here's our top five online slots based on comic books.
Judge Dredd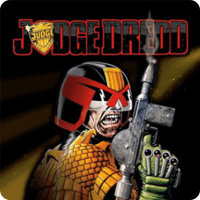 NextGen Gaming really worked hard to capture the excitement and action of the original Judge Dredd comics. The music, and illustrations really make sure this one grabs players' attentions, and they also help create a dramatic title that thanks to its many features, is also a potentially lucrative one.
Being a one-man justice system, Judge Dredd has the power to appear randomly and award an additional prize to the player. There's also the game's highly profitable free spin mode too. Landing three or more police badge "scatter" symbols on the reels will trigger ten bonus games in which all winnings are doubled.
Dredd himself acts as the game's "wild" symbol, and an innovative mode known as "super bet" increases the "Dredd Wild Action". Players can bet 50 coins for Dredd Wilds on all reels. They can reduce their wager to 35 coins for Dredd "wilds" on reels two, three, and four. Finally, they can bet 25 coins for a Dredd "wild" on reel three only. These extra symbols are also in effect during the game's free spin mode and substantially increase the likelihood of a big win.
Spider-Man: Attack of the Green Goblin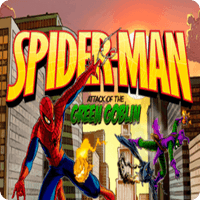 Spider-Man: Attack of the Green Goblin is a title that draws heavily on the classic stories in Marvel Comics, rather than the blockbuster movies that followed. The character symbols are all consistent with their original illustrations, and players can even collect memorable comic book covers along the way too. In addition, the game looks fantastic. Typical, overly bold comic book-style lettering has been favoured and the background city-scape is both apt and well-designed.
In terms of special features, Spider-Man: Attack of the Green Goblin is absolutely loaded. Firstly, there's the Spider-Man Collection Bonus. In this mode comic books are presented on a shelf and rapidly pass by until the player clicks "stop". This selects one of the five covers. Each of these relates to a different special feature. In addition, players can also showdown against the Green Goblin in the "Ultimate Fight Feature". The two combat each other atop a city skyscraper. Each time Spider-Man can land a successful strike, a cash prize is awarded. If Spidey wins, extra bonus money is the prize.
Finally, as if all that weren't enough, there's the Spider-Man wild feature too. Our hero might appear at any random time to shoot his web-blast at the reels. This will turn two, three, or four symbols into "wilds" for the next spin.
The Dark Knight Rises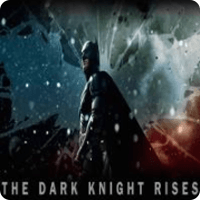 This title really made a name for comic book slots when it was released. Microgaming's Dark Knight Rises scores highly for its mysterious and edgy representation of the main characters. In terms of gameplay, this one really is a cracker. It forgoes typical pay lines, favouring instead 243 ways to win. Here, any three or more adjacent, consecutive matching symbols will trigger wins.
The level of detail which Microgaming have managed to incorporate is stunning. The animations of Bruce Wayne himself, and The Joker at either side of the reels brings the title to life, and gives it the action packed, dynamic punch of both the Batman comics and movies.
There's a free spin bonus round. During this, all "wilds" appear stacked. This makes for an even greater chance of winning. Microgaming have also included The Dark Knight Rises in several of their progressive jackpot pools. Playing for a chance to win a lifechanging amount of money is always fun. Particularly if the game is as engaging as the Dark Knight Rises is too.
X-Men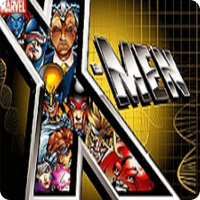 Fantastic concepts make the work easy for slot machine developers, and one as strong as the Marvel Comics's team of mutant crime-fighters is almost guaranteed to be a hit. The version of X-Men we're discussing today isn't to be confused with the Playtech title of the same name. Rather, it's the one by Cryptologic that bears closer resemblance to the comic books themselves.
This version of X-Men features Professor Xavier, Magneto, Wolverine, Storm, and a whole host of other memorable characters from the comic franchise. The symbols have been designed with the original illustrations' aesthetic in mind. There is also a great bonus round which is triggered by landing three or more Xavier Institute for Higher Learning symbols anywhere on the reels. In this bonus feature, players choose which trouble spots to send which team member to. A fight ensues between our hero, and a random villain. If a friendly fighter wins, prizes are awarded based on the amount of life they have left on their meter. Conversely, if the opponent wins, prizes are awarded based on the amount of life meter they had taken off them.
Finally, there's the great "Marvel Jackpots" feature. There's up to three that can be won by players and they're completely randomly awarded. No ever-teasing bonuses that hint "you were so close that time!"
Wonder Woman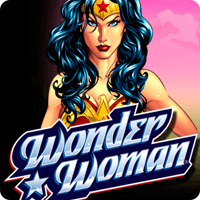 The Wonder Woman slot online slot machine from NYX Gaming is a great homage to the sometimes-feminist, sometimes-not-so-feminist comic book heroine. Fortunately, the slot machine representation favours the strong, powerful version of the character who hails from female-only Paradise Island over the later version who gives up her powers all for the sake of a man.
Wonder Woman's symbol is, of course, the most powerful in the game. She's "wild" and will double any winnings in which her symbol forms a winning combination. In additional, she triggers the free spins round in which all winnings are subject to a multiplier of 2x. A showdown with Wonder Woman's nemesis, Ares, is also available as an additional side game. However, a slight drawback with this the fact that players must first wager addition money in the form of a "Bonus Bet" to stand any chance of triggering it.
All told, Wonder Woman is a great slot that really captures the feel of the comic book well. We're sure that thanks to the latest blockbuster of the same title, there'll be a reboot from some manufacturer soon. It's unlikely to capture quite the same spirit as the original hand drawn illustrations that NYX Gaming have achieved, however.