The 5 Best Movie Themed Online Slots
Slots, fruit machines, one armed bandits - call them what you will – they've been consistently popular in casinos since their invention at the turn of the twentieth century. The soaring demand for the original Liberty Bell unit after its launch inspired others to throw their ideas into the mix and it wasn't long before a range of mechanical gambling machines were available for punters. With the number of different slots available growing through the nineteen-hundreds, and a love of another recent invention, the cinema, growing globally, it was only a matter of time before the two ideas were combined. Enter the movie themed slot machine – an absolute staple of every casino today, both online and virtual.

The makers of movie/casino crossover units, such as the Star Wars machine pictured, sought to cash in on the immense popularity of the cinema and were big draws in brick-and-mortar casinos. Today, of course, thanks to the explosion of internet gambling at the turn of the twenty first century, and advances in computer generated imaging, it seems that all the greatest tales from the silver screen have their own virtual slot counterpart.

Granted, we've all got our favourite movies, and maybe Roman battles to the death, or Miami drug kingpins aren't your thing, but for our list we've tried to focus on the actual gameplay experience of the machines. Here's our pick of the frankly enormous bunch of movie slot machines out there.
Rocky by Playtech
Join Rocky Balboa as he brawls his way to the top of the boxing world. It's none stop action with all the Italian Stallion's meanest opponents represented. The bonus round is a cracker. You select one of the champ's famous adversaries (Clubber Lang, Ivan Drago, or Apollo Creed) and are then treated to clips from the movie composed into a mock title fight. Your prize is awarded based on how many rounds you beat up on your opponent for before someone gets knocked out.
That's not all though. The Rocky slot machine also has a free bonus spin round featuring double winnings, and an additional pay-out of five times your bet for managing to spell the letters "R, O, C, K, Y" in order across all reels.
For sheer excitement, and staying true to the Rocky franchise, it's well deserving of a place on our list.
Terminator 2 by Microgaming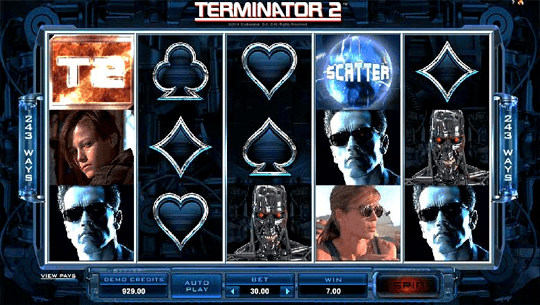 "I need your clothes, your boots, and your motor cycle" – the inclusion of this sound bite pretty much guaranteed the Terminator 2 slot a place on our list. Possibly the pinnacle of the greatest ever action hero star's career, the classic dystopian flick translates seamlessly to the slot machine format.

There's a host of characters from the movie including John, Sarah, the T-1000, and of course, our hero, and the original epic music certainly adds additional drama and tension to the gameplay experience.
Terminator 2 features a great bonus round too. Once activated, an additional row of symbols appears. This adds over 700 different winning combinations and dramatically increases your odds of cashing in. Additionally, during the bonus round, the T-1000 can transform into any other character, guaranteeing the highest possible win per spin.

For straight up atmosphere, the Terminator 2 slot by Microgaming is thoroughly deserving of a place in our favourite five movie crossover machines.
The Dark Knight by Microgaming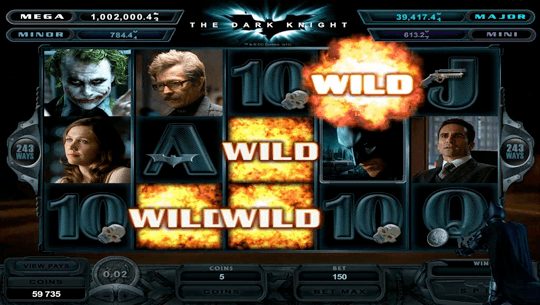 Of course, no list of movie licensed slot machines would be complete without a visit to the pages of comic books and who better to take us there than Bruce Wayne himself.
In terms of gameplay, the Dark Knight is an interesting machine. There are no typical pay lines. Instead there are a quoted 243 ways to win. It's difficult to explain but a quick play of the machine reveals that it's not all too dissimilar to traditional slots.

The CGI team at Microgaming have outdone themselves on The Dark Knight. The level of detail throughout the game is staggering. Miniaturised animations of our hero, and his nemesis, The Joker, appear sporadically during the action, and the slot utilises the movie's plot extremely well.

Again, we're treated to an additional bonus round of free spins. This time, any wilds that appear are stacked, making for an even greater number of ways to win. Another great feature when it comes to bonuses, and winning big is the inclusion of the slot in several of Microgaming's progressive jackpot pools – the largest of which has up to six-figure pay-outs.
If you're interested in seeing the pinnacle of online slot machine craftsmanship, and some of the biggest potential pay-outs, then you really can't go far wrong with Microgaming's The Dark Knight slot machine.
Gladiator by Microgaming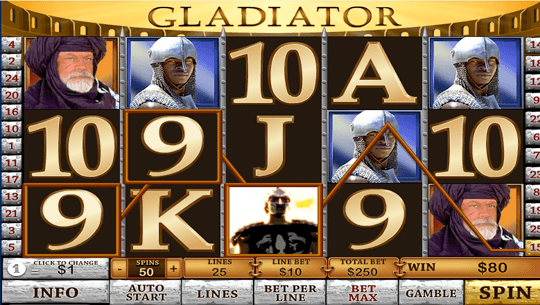 Whilst this entry is a bit of a classic these days, it's inclusion here is well deserved through gameplay alone. I mean, it must be pretty good if we've decided to go with it and Russel Crow doesn't even appear anywhere on the machine.
It's a standard looking machine with five reels and three rows. There's a maximum of 25 pay lines, and a potential win of 5,000 times your wagering bet. Throughout the game, players are treated to great cinematic affects, and graphics that have honestly held up well. I suppose classical Roman stylings have already stood their test of time though.

The game really comes alive when it comes to its bonus rounds. Here, we're treated to two entirely different features. One is the classic "Pick Me" style game. You're given up to nine selections over a grid of helmets, and under each one is a prize of up to five times your initial stake. This can make for a pretty tasty pay-out. The other bonus round is known as the Coliseum bonus. Here you're awarded various none cash prizes to complement a given number of free spins. Examples of such include additional free spins, extra scatter symbols, and additional multipliers on wins.
Scarface by Netent
Our final absolute must-play slot machine for fans of movie themed games is Scarface. Featuring several characters, and clips from the classic rags to riches tale of Tony Montana, fans of the franchise will know we're in for an action-packed ride.
Again, the slot itself is a standard affair – three row, five reels. One of the major differences is the inclusion of a total of three stacked wilds amongst the symbols. These are represented by Elvira, Manny, and Tony himself. Landing one of these wilds on the right reel prompts various additional features. For example, reel two activates nudge spins, allowing for the reel to shift up or down. This further increases the likelihood of a big win.
The stacked wild landing on the third reel, treats players to the game's best feature – the "Say Hello to my Little Friends" bonus round. Here you use either a gun, or a grenade to defend Tony's homestead from the marauding gangsters, just like in the final scene of the movie. Cash is awarded for every kill and the game ends when our hero finally snuffs it.
All told, the Scarface slot machine is tremendous fun, and the attention to details from the film makes this crossover almost entertaining to play as watching Tony's criminal empire crumble.