How To Profit From Free Casino Bonuses
Bonuses help online casinos to expand their player base and give players a chance to play risk-free games and win real money prizes.
However, bonuses are not free money that players can withdraw at will. Online casinos give them away because they want players to sign up and play for real money. Online casinos don't just give away bonuses for free because they want to be generous; there is a marketing science behind it.
Since we have years of experience analysing and vetting bonuses at reputable online casinos, we have come up with some essential tips of how to best claim online casino bonuses, how to avoid bonus abuse and how to hopefully turn a profit.
How to Avoid Bonus Abuse and Profit from Your Bonus
"Bonus abuse" is an industry term referring to the act of taking advantage of casino bonuses. Quite understandably, online casinos are not fond of bonus abusers. They implement a policy of zero tolerance to bonus abuse and confiscate the bonuses and bonus winnings of players caught attempting to abuse a bonus.
You need to follow these steps to avoid committing bonus abuse:
Read Bonus T&Cs
We cannot stress the importance of reading the bonus T&Cs too much because it is the most effective way of avoiding bonus abuse, identifying loopholes in the bonus terms, and figuring out the best ways of profiting from a casino bonus without the online casino accusing you of bonus abuse. Nobody reads bonus T&Cs more closely than bonus whores (players who thrive on taking advantage of casino bonuses).
Create Only One Account
Online casinos do not allow you to create multiple bonuses to claim the same bonus multiple times. If an online casino detects duplicate accounts, it will freeze them and confiscate the bonus. So make sure to register only once at an online casino.
However, there is nothing to stop you from signing up at multiple online casinos and claiming their bonuses.
Don't Place Large Bets
Online casinos don't like it when players place large bets to meet low rollover conditions. Usually, online casinos protect themselves from this type of bonus abuse by specifying exactly how much you can bet per spin or round with your bonus funds.
If you don't see a max bet condition, don't take advantage of the situation by placing large bets just to clear your bonus faster and withdraw your winnings. Online casinos always cry foul when you do so.
Don't Play High RTP Games
Again, online casinos usually protect themselves by imposing game restrictions on the bonus offer. If you don't see any game restrictions around, you won't be breaking rules by playing high RTP games. But this doesn't stop some casinos from crying foul if you claim a low-rollover bonus, play high RTP games to clear it, and withdraw your winnings at the earliest possible.
Online casinos have made things as difficult as possible for bonus whores. The biggest enemies of bonus whores are terms and conditions such as high wagering requirements, game restrictions, max bets, and max cashout. But even the strictest bonus T&Cs need not stop you from maximizing your bonus profits.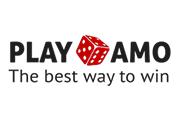 Claim your bonus
PlayAmo Casino
Sign up and receive a 25 Free Spins on Avalon: The Lost Kingdom
Additional Tips for Managing Your Funds and Turning a Profit
In addition to the advice mentioned above, there are other steps that you can take which will help increase your bankroll and hopefully help you turn a profit from your gambling.
Take Things Slowly
You don't have to place large bets and play for long sessions just to unlock your bonus. If you do so, you may get frustrated and start chasing your losses; and before you know it, you will have lost your bankroll. Also, the non-stop play will exhaust you, leading you to make expensive mistakes.
A better bonus clearance strategy would be to clear your bonus in a way that suits your gaming preferences, bankroll size, and schedule. If you are looking for the best bonus offers in the market, you should click here.
Claim the Maximum Bonus
After signing up at a reliable, licensed, and trustworthy online casino, make the maximum deposit to claim the maximum bonus. For example, if an online casino offers a 100% bonus up to $100, claim the full $100 bonus.
Clear Active Bonuses before Cashing Out
Never make a payout request before meeting the bonus rollover requirements. Online casinos consider this to be bonus abuse and forfeit your bonus winnings and whatever is left of your bonus.
Some online casinos, however, credit your bonus to your real money account as and when you clear it, enabling you to withdraw the funds in your real money account whenever you wish.
Claim No Deposit Bonuses
These are bonuses that do not require a qualifying first deposit amount. You get them as soon as you sign up and log in to your account. They give you a free trial of the online casino, allow you to play risk-free games, and win real money prizes.
Participate in the Loyalty Program
The best online casinos offer loyalty programs, which are often overlooked by players as well as reviewers. You can claim huge rewards in the form of wager-free bonuses, free spins, and special deposit bonuses with low rollover requirements.
Go for Wager-free Bonuses
Many online casinos now offer wager-free bonuses that don't have the dreaded wagering requirements. However, they may have other terms and conditions, so make sure you read them before claiming a wager-free bonus.
We recommend you check out the Free Spins No Deposit Bonuses offered by NetEnt Casinos and be sure to claim no deposit bonuses and try for yourself.