The Best Casinos In Vegas
Las Vegas is known the world over as gambling central, which of course means an absolute wealth of casinos available. With so many options to choose from, it can be quite a challenge to figure out in which no deposit casinos to spend your hard-earned money. Here we present a rundown of the best casinos in Vegas, with a focus on each one's particular strengths.
Bellagio - Best poker casino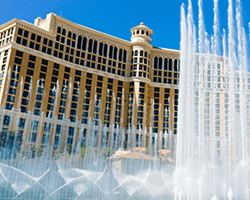 The venerable Bellagio is still one of the most popular casinos on the strip, with its considerable fame due in large part to its excellent poker options. There are no less than 40 tables dedicated to the game, offering everything from no limit Texas Hold' em to Omaha, and more. Equally popular among fish (novices) and high rollers, the poker room also serves up an extensive array of food and drinks. You can even get a massage right at the table while you're playing!
Aria - Best slots casino
Every casino on the strip naturally has its share of slots machines, but in terms of sheer number and variety, Aria has got them all beat. Known for the most expansive slots floors in Vegas, the casino also houses Spin, which is the most exclusive high-limit slots venue in the state of Nevada. In Spin, it isn't unusual to see machines that cost five grand per pull. In addition to the slots tables, there are also private bathrooms, a dedicated dining area, and even personal butlers for the players.
Caesar's Palace - Best sports betting casino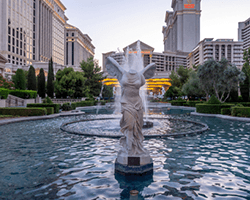 Sports betting has become one of the biggest draws in the Vegas casinos, and there is no better place for you to wager in than Caesar's Palace. Nearly 15,600 square feet of floor space has been dedicated to sports book section, providing sports aficionados with their own special corner in the casino. The centerpiece of the area is an immense video wall containing half a dozen 12' x 15' screens, a dozen 50" plasma screens, and a 20' x 50' LED board where betting lines are streamed and updated every minute.
Golden Nugget - Best casino for table game variety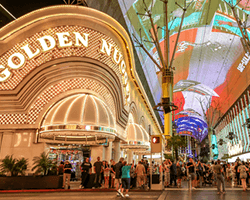 The Bellagio may be tops at poker and Aria may rule the roost as far as slots go, but for sheer volume and variety of table games, the Golden Nugget is the one to beat. The most elegant and most exclusive casino in the downtown area, the Nugget keeps things fresh with a constantly updated selection that frequently includes recently-released games hot off the production line.
Planet Hollywood - Best entertainment options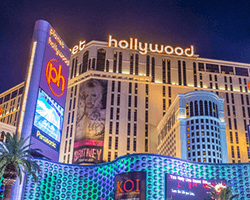 With a name like "Planet Hollywood", you can bet that this casino resort has some of the most drop-dead excellent entertainment options around. Having once served as the staging ground for no less than pop diva Britney Spears, the venue also features such high-caliber talent as Pitbull, Jennifer Lopez, the Backstreet Boys, and Lionel Richie, among other heavy-hitters. If you're lucky, you might even catch a Murray the Magician show, or a rollicking staging of that notoriously steamy adult revue, Crazy Girls.
Stratosphere Casino, Hotel & Tower - Best casino for views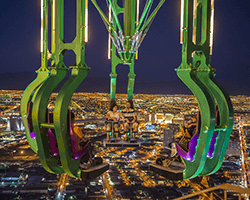 The aptly named Stratosphere is where you will find the tallest structure in Vegas. Standing at a dizzying height of 1,149 feet, the Stratosphere's tower is also the tallest freestanding observation tower in the US. Unsurprisingly, this is where you can enjoy the most fascinating view of the Vegas Valley. You can enjoy more than just a spectacular view of the surrounding terrain from here, of course. The tower is also the site of the equally famous rotating restaurant, the highest altitude bar in town, and the highest Sky Jump in the world.
Red Rock Casino Resort & Spa - Best casino off the Vegas strip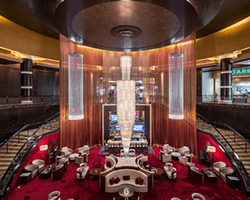 Not all the action happens right on the strip. Red Rock has most everything that its more centrally-located counterparts have to offer if you care to head to the valley's western edge. For your effort, you get to enjoy huge expanses of wide open space while still being able to take advantage of the more urbane attractions of Vegas. With its excellent spa, the combo pool-and-party venue, and the many fancy bars, Red Rock is every bit the archetypical Vegas casino as all the rest–only better.
Circus Circus - Most family-friendly casino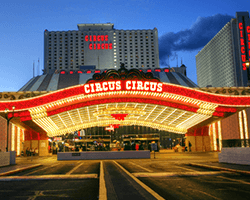 Vegas doesn't have to be just for grownups. If you want to take the kids along, Circus Circus is the perfect spot for you. The Adventuredome is undoubtedly the center of all the action, with its five-acre indoor space hosting a dazzling array of games, rides, and so much more. Everything from roller coasters and carousels to a video arcade can be found here, and if that isn't enough, there are also Skee-Ball facilities and bumper car courses.
The Cosmopolitan of Las Vegas - Foodies' choice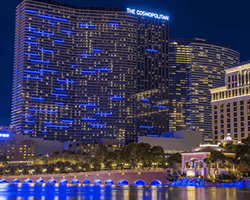 Las Vegas is absolutely brimming with food choices everywhere you turn. But if you really want to sink your teeth into something special, The Cosmopolitan is where you should sidle up to the table. Whether you have a hankering for authentic Spanish tapas, want a taste of the Orient, or you feel like going all continental, there is definitely something tasty here for you. You can even get a slice of authentic New York pizza from Secret Pizza!
Mandalay Bay - Most impressive swimming pool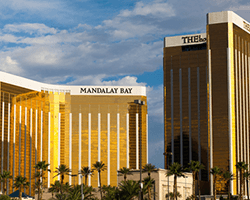 The desert can get pretty sweltering during the summer months, so it's a good thing that Mandalay Bay has a pool where you can cool off. And not just any pool, mind you. More than 1.6 million gallons of water and 2,700 tons of actual sand have been put together to provide one of the most impressive water wonderlands this far inland, providing way more than a much-needed respite from the blazing sun.
The Venetian and The Palazzo - Best spa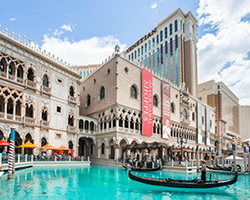 The Venetian and The Palazzo are often considered two separate casino resorts, but they are actually run under a single gaming license. Furthermore, there is one special feature that concepts them both, which is the Canyon Ranch SpaClub. More than just a bridge between these two fine establishments, the spa is a notable attraction in its own right, covering an expansive 134,000 square feet of space. Here you can enjoy massages, facials, scrubs, and any one of the more than a hundred other personalized services, all the better to refresh you for your next round at the tables!
MGM Grand - Best option for non-gamblers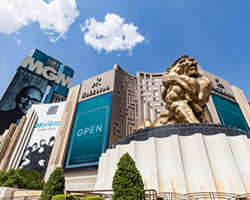 Finally, Vegas has something to offer non-gamblers as well, and you will find it at the world-famous MGM Grand. The legendary casino has a wealth of gambling options to be sure, but along with these are attractions such as the Level Up arcade, which offers a dazzling array of attractions for people of all ages. Who said that Vegas was just all about gambling??