Top 5 Free Spins Slots Based on TV Shows
The world of online slots is absolutely massive, and the biggest slots producers in the world have lucrative contracts with some of the world's most popular TV series. This means that you no longer have to simply watch your favourite characters on the screen – you can now also join them on their adventures, every time you spin the reels!
Whether your favourite TV show is a classic from the 1970s, or whether you like more modern programmes, there will be something for you at an online casino. Don't worry about scrambling around looking for the best of them though, as you'll find the top free spins slots based on TV shows right here on this page!
So, are you ready to find the top slots based on TV programmes? If so, keep on reading! You can also get casino free spins and play these games now for free.
Game of Thrones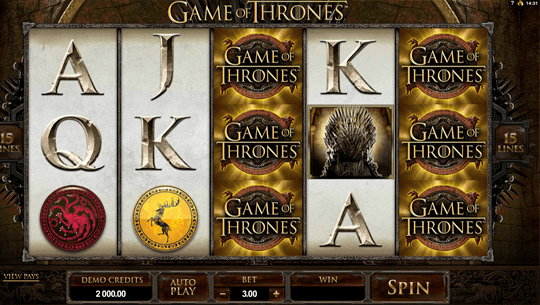 No show has made a bigger impact than Game of Thrones in recent years, with millions of people tuning in to watch the different families fight for control of Westeros. The series is packed full of action and excitement, and this is also the case when it comes to the Game of Thrones online slot, which is one of the most exhilarating slots produced by Microgaming in recent years.
Game of Thrones actually has two different gameplay options – you can either play the version with 243 different ways to win, or the version with 15 paylines. The game with 243 paylines has a higher minimum bet amount, however it also offers much higher potential prizes!
But why do people play this slot? Well, the theme is clearly a draw, and the fact that it has a fantastic free spins round is also another reason why so many people enjoy playing this game. The top prize is the main lure to this slot though, as you could win up to 20,250x your bet per payline when you spin the reels! There's also a gamble feature, however most experienced players will always avoid this feature.
Beverley Hills 90210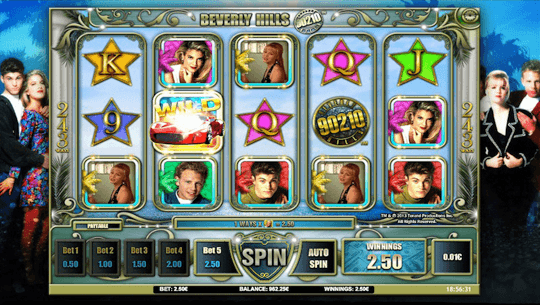 Beverley Hills 90210 might not be to everyone's taste, however there can be no doubting that it holds a special place in television history. Luckily for most fans, this slot from iSoftBet is based on the original series, and not the terrible reboot in 2008. So, you can expect to see all your favourite characters spinning around on the reels, including Brandon Walsh and Kelly Taylor.
This is a slot with 243 different ways to win, and this means that wins will constantly spin into view – although they aren't always huge. This makes this a low variance slot, which is perfect for beginners, as you probably won't win a massive amount, but you shouldn't lose a huge amount either.
You should win some huge amounts of money if you start the free spins round though, where you'll have to choose between the boys and the girls. Choose the boys and you could get up to three wild reels on a spin, while choosing the girls will see random symbols turned wild on each spin.
The Sopranos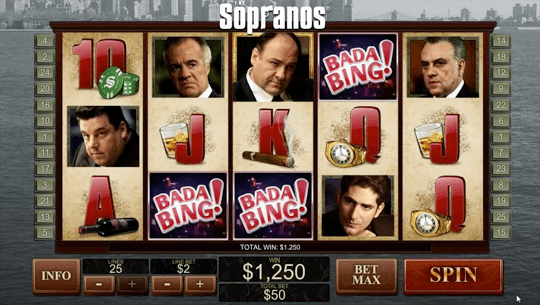 In the future, when academics are studying the best TV series of all time, they'll undoubtedly zero in on The Sopranos, which is regarded by many as the ultimate drama. It sees Tony Soprano wrestling for control of his Mafia family, while also trying to live his day-to-day life at the same time. Thanks to Aristocrat, The Sopranos can now be enjoyed by online slots fans, and it offers some fantastic features, as well as some really big prizes.
The Sopranos is certainly a pretty old slot, as it was released back in 2007, however it has managed to stand the test of time. This is mainly thanks to the great graphics, which were ahead of the time in 2007, and still compare well to the latest games. The great graphics probably have something to do with the fact that the creators of the show were involved in the slot's design.
There are loads of bonuses at this slot – far too many to mention in this small space. The most exciting feature is undoubtedly the progressive jackpot though, which rises as more and more people play the game. This means that it can reach absolutely massive levels!
24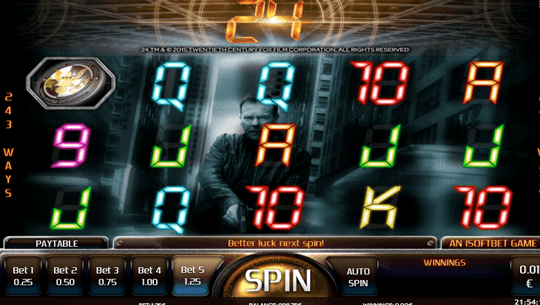 Do you have the guts to head off on an adventure with Jack Bauer, the star of the hit TV series 24? If so, the 24 online slot could well be a fantastic choice for you! This is another slot by iSoftBet, who seem to have quite an affinity with fantastic TV series, and they've gone all out when it comes to the theme, creating a tense atmosphere and utilising many exciting symbols.
The biggest excitement comes during the bonus round though, which sees you attempting to help Bauer take down a number of dangerous terrorists. You're not just fighting for world peace though – you're also trying to win thousands of coins. The bonus game starts in a really unique way, as it will begin once the countdown has reached zero, with random times removed from the clock after every spin of the reels.
If you were a fan of 24, this represents a fantastic choice, however those who haven't seen the series will still find loads of fun at this slot – and there aren't any spoilers either, so there's no need to worry about that! The combination of big prizes and plentiful bonus features really does make this slot one of the best around.
South Park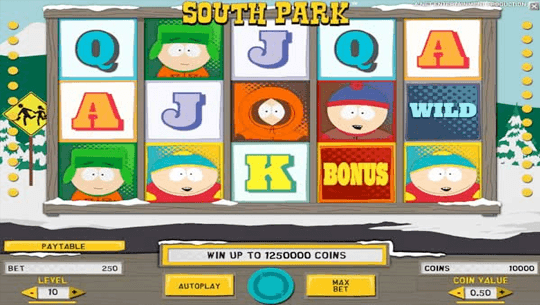 Do you like crude humour, as well as the chance to win big prizes? If so, South Park could well be the slot for you! NetEnt have created this slot, so you already know it is going to be fantastic, and it features all the characters from the show, including Cartman and Kenny. It also features an absolutely massive jackpot, which is worth 1,250,000 coins when playing at the highest stakes.
Even if you don't manage to win the jackpot, you'll still have loads of fun when you spin this slot's reels. Why? Because this slot has a huge number of bonus features, each of which is more hilarious than the last. Whether you're helping Cartman to spray hippies with a fire extinguisher, or watching Ike get kicked around the screen, you'll be laughing out loud when you play this game.
NetEnt really have taken slots to a new level with South Park, and it shows once again why NetEnt are regarded as one of the best online casino software producers around!